Domaine de L'Enclos
Chablis, Burgundy, France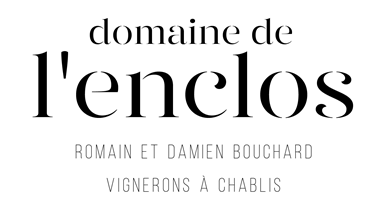 This is one of the most exciting new domaines to have emerged from Chablis in the past decade. It is 'new' in that it is a name we've not seen before, but the family of Romain and Damien Bouchard has been in Chablis for generations. They sold their father's négociant business in 2015 but retained the 39 hectares of vineyard that their mother's family had owned. In addition, they bought a house in the heart of the town of Chablis called 'L'Enclos', which was originally a building used by the monks of Pontigny to house their vineyard workers.

Not only have they transformed the old house into a beautiful domaine, they have also built a vinification cellar five metres underground. It is spotlessly clean and modern, and is comprised primarily of small, stainless-steel tanks. The small tanks ensure they can vinify the various parcels they have in their vineyards separately. It is in the vineyard that Romain and Damien make the difference. Unusually in Chablis, they don't chaptalise and instead work with low yields in order to ensure full ripeness in the grapes. All of the wines from Domaine de L'Enclos are organically certified from the 2018 vintage, except for their Premier Cru 'Beauroy', which will be certified from the 2019 vintage.

The wines are stunning. The village Chablis is unoaked with bright, lifted fruit, waxy with a touch of lemon zest on the nose giving way to a zesty creaminess on the palate. The Premiers Crus and Grands Crus are fermented with indigenous yeasts and spend 12 months ageing on the lees. The Premier Cru 'Beauroy' has a classic mineral and gunflint profile, while the Premier Cru 'Montmains' comes from over 50-year-old vines and has notes of ripe yellow fruits and smoke with bright acidity. The Grand Cru 'Vaudésir' comes from south-facing vines. While young, it is layered and intense yet beautifully defined. The Grand Cru 'Les Clos' has superb balance and concentration with an elegant purity of fruit.