Principe Pallavicini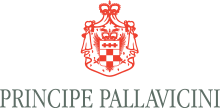 The history of the Pallavicini family, which has owned land in the Lazio for hundreds of years, is entwined with that of popes, cardinals, generals and princes. The Palazzo Pallavicini-Rospigliosi on the Quirinal Hill in Rome is a clear testament to this remarkable ancestry. Among their proprieties is the Tenuta di Colonna in the Castelli Romani area southeast of Rome, which has around 60 hectares under vine, of which about 50 are white varieties planted at an altitude of 200 metres above sea level on a mixture of volcanic soils and calcareous clays and sand. The history of this area is even older than the Pallavicini family: the legend says the Cretans arrived in the Castelli Romani and built the first hilltop villages after being displaced by the Mycenaeans around 1200 BC. The winery is built over a Roman cistern and aqueduct and Roman artefacts and remains are to be found everywhere on the estate.

In this historically rich context, modern techniques are used to produce wines that are clean and vibrant to highlight the characters of the indigenous varieties. The Frascati is made from a typical blend of Malvasia di Candia and Malvasia del Lazio along with other varieties such as Trebbiano and Greco. After crushing and gentle pressing, a classic white wine vinification ensures that the fresh and delicate floral profile is perfectly preserved in the wine. The white Roma DOC is made from 100% Malvasia del Lazio, also known as Malvasia Puntinata. After crushing at 8°C in order to preserve freshness, there is a short maceration on skins followed by pressing and fermentation at 12°C. It is then kept on its lees for four to five months before bottling.

The 'Rubillo' is made from Cesanese grapes harvested by hand at the beginning of October. After selection, berries are crushed and fermented on the skins for about two weeks at a controlled temperature, after which the wine is aged in stainless steel with no time in oak. This wine is balanced and pure with an attractive nose with ripe fruit and a hint of spice on the palate. Starting from the 2017 vintage, Pallavicini have also added a red Roma DOC to the range. Made from Montepulciano, Syrah and Cesanese the wine is aged for a short period in French tonneaux to create a structured wine, with hints of spice and a long finish.